EYES
DIRECTOR: NORMAN ISSA // EDITORS AND DRAMATISTS: ABED NATOUR, NORMAN ISSA, IGAL EZRATY
A theatrical performance based on poems by Mahmoud Darwish.
This musical theatrical journey performed by three actresses, an actor, and a camera, follows the poems of Palestinian poet Mahmoud Darwish. A surreal expedition that travels from his childhood in the Galilee to his exile in Lebanon. Along the way, the actors meet the poet and themselves through encounters with his mother, with his revered teacher Shoshana and through a reunion with Rita – his Jewish lover.
The play is in Hebrew and Arabic with English subtitles and performed by Arab and Jewish actors, accompanied by the singing and music of Mira Awad.
This unique journey allows Jewish and Arab audiences to experience Darwish's outstanding poetry, as well as the landscapes, conflicts, and experiences of living in this country.
Booking: [email protected]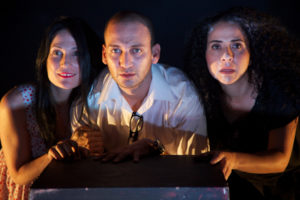 OUM KALTHOUM – A MUSICAL THEATRE
WRITTEN BY EDEN ULIEL AND IGAL EZRATY // DIRECTOR: IGAL EZRATY
The play is based on the life story of famous Egyptian singer Oum Kalthoum, "the Star of the East," from her early performances dressed as a Bedouin boy, until capturing the hearts of the Egyptians and the entire Arab world. This is a play about the poet Ahmad Rami's desperate love for the beloved singer, as the poet who authored 137 of her 283 songs, and about the rivalry between his two friends, musical giants Oum Kalthoum and Abdel Wahab, whose songs accompany the performance. The story of Oum Kalthoum is also the fascinating story of 20th century Egypt. Based on the novel Oum by Selim Nassib.
Booking: [email protected]